Benefits of Luxury Vinyl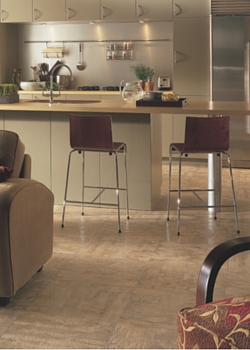 Vinyl flooring is popular because it brings together premium style and durability. It offers the looks of hardwood, stone, and tile with increased strength and wear resistance. Luxury vinyl flooring, as you can imagine, brings all of these benefits to the next level.


Like vinyl, luxury vinyl flooring replicates the natural looks of hardwood, stone, or tile with an ultra-high definition image and customized surface texture. The looks, however, are certainly more authentic, and it's often impossible to differentiate between luxury vinyl and hardwood or tile. In addition, luxury vinyl flooring offers increased durability. It is stain and water resistant, and it will not bend or warp in any way. Spills also never seep past the surface, so they can simply be wiped up when necessary. At the same time, although luxury vinyl flooring is comfortable underfoot, it remains strong enough to withstand heavy foot traffic. In fact, there are certain luxury vinyl collections that are certified for commercial use. So, luxury vinyl flooring will remain stable and beautiful no matter what life throws its way!


Luxury vinyl flooring is offered in planks (LVP flooring), tiles (LVT flooring), and sheets (vinyl sheet). It can be installed using the glue down method or the newer floating method. The glue down method involves bonding (or gluing) the planks or tiles to the subfloor with a special adhesive. With the floating method, the planks or tiles click together and essentially "float" over the subfloor. This typically leads to an easier and quicker installation.


To learn more about luxury vinyl flooring, be sure to visit El Paso Carpet One Floor & Home. We carry Carpet One exclusives like Invincible LVT, as well as other specialty brands such as Armstrong LVT.