Why Choose Interceramic?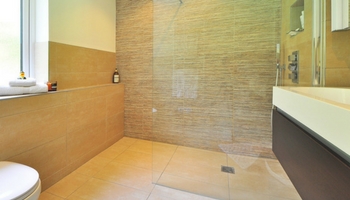 We at El Paso Carpet One Flooe & Home are happy to offer a great selection of quality tile flooring. Tile makes it possible to add natural looks and feels in areas with moisture, so it continues to be a popular option in homes. One of our featured brands of tile is Interceramic. Interceramic offers premium style and durability throughout its various collections.
Interceramic offers a wide selection of tiles, so you can choose from many different colors, patterns, and designs. No design is considered off limits! Also, Interceramic utilizes innovative digital printing technology to offer tiles that look almost exactly like wood, stone, and marble.
These tiles are great options for those who want to add the natural beauty of wood, stone, or marble to areas with moisture. Moreover, some Interceramic tiles feature an innovative product technology called LumenFX. With LumenFX, each Interceramic tile will have its own unique appearance. In other words, no two tiles with LumenFX will look the same! So, Interceramic tiles with LumenFX combine the one-of-a-kind appearances of stone and marble with the strength and durability of ceramic tile.
Speaking of strength and durability, Interceramic ceramic tiles are without a doubt some of the strongest in the industry. Interceramic refers to these tiles as high density ceramic because, as you can imagine, they are denser, stronger, and more resistant than traditional ceramic tiles. In fact, the high density ceramic tiles offer the performance of porcelain tiles! So, if you want the design versatility of ceramic but still need the extra strength of porcelain, Interceramic's high density ceramic tiles are suitable options.
To learn more about Interceramic tile, visit our El Paso, TX store today! As always, our estimates are free.