Our Refinishing Services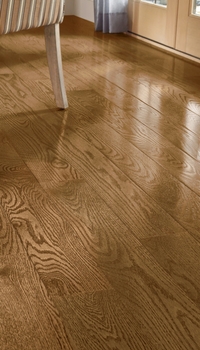 Hardwood flooring has many unique advantages that set it apart from other flooring options. It, for example, offers timeless beauty and natural character that simply cannot be recreated even with the most advanced technologies. Another advantage of having hardwood in your home is the opportunity to choose hardwood floor refinishing. Why is hardwood refinishing such an advantage?
Over time, flooring options like hardwood can become a bit dull. Hardwood, in fact, can sometimes lose its shine and color. Refinishing hardwood floors, however, involves removing the dull surface and replacing it with a brand new one! Essentially, the surface of the floor is sanded down to remove any remaining finish and to smooth over any scratches. Once the floor is completely sanded, new finish and new stain are applied. What results is a hardwood floor that, even after years of being in your home, looks as good as new! Plus, with new finish, the floor will continue to be protected.
How do you know whether or not your hardwood floor needs to be refinished? Here's a simple test that you can perform at home. Place a drop of water on the surface of your hardwood floor. If the water beads at the top and never penetrates the surface, then the finish is strong and the floor does not need to be refinished. But, if the water is absorbed into the surface, then the floor does need to be refinished.
If you're hardwood floor does need to be refinished, be sure to visit the hardwood experts at El Paso Carpet One in El Paso, TX. Our experts know exactly how to refinish hardwood floors, and they will make sure that the process is completed without getting in the way of your family and home.
As always, our estimates are free, so contact us today!