Daltile's Advantages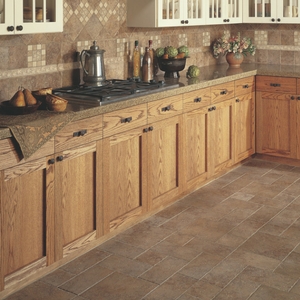 When it comes to quality tile flooring, Daltile is certainly one of the first brands to come to mind. Daltile continues to stay at the top of the industry by offering a wide selection of styles and performance technologies that you won't find anywhere else.
Daltile offers a tremendous selection of tiles, so there are so many different types, patterns, designs, shapes, and sizes from which to choose. Whether you want a simple yet strong tile for your kitchen or something more stylish for your bathroom, there is certainly a Daltile tile to suit your needs. Also, Daltile not only offers tile flooring; it offers wall tiles, mosaic tiles, backsplash tiles…virtually all types of tile imaginable!
In addition, there are a few different product performance technologies that Daltile offers throughout its tile selection. One of these technologies is Visual Imaging. With Visual Imaging, Daltile is able to offer premium appearances and surface textures. There are certain styles that replicate the looks of wood, for example, and there are others that look like stone! These looks are truly authentic, so Daltile makes it possible to add these natural looks to areas with moisture. Why? Unlike wood and stone, tiles will resist moisture and heat, and they will never expand or contract under moist conditions.
Some Daltile tiles even offer an innovative technology called StepWise. Tiles with StepWise remain slip-resistant in any condition, and they also are really easy to clean and maintain. As a result, these tiles are appropriate for commercial settings, and they are great for residential settings as well.
Visit El Paso Carpet One Floor & Home to learn more about Daltile. We carry quality tiles from Daltile and from other popular brands, so we'll certainly be able to help you make the perfect choice!