Our Carpet Stretching Services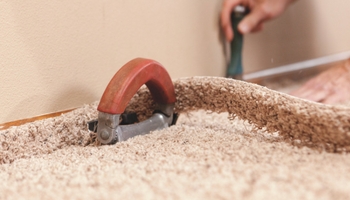 We at El Paso Carpet One Floor & Home are pleased to offer a variety of flooring services that will help keep your floors looking as good as new for a long time. For carpets, we offer quality carpet stretching services.
How do you know when your carpet needs to be stretched? Sometimes, a carpet may ripple (or bunch up) in certain areas of your home. Rippling usually occurs in areas where there is heavy foot traffic, or in areas where, for example, furniture has been moved. As long as the ripples are only minor, they can be fixed by carpet stretching.
Carpet stretching essentially involves using a power stretcher to pull up the ends of the carpet until the ripples are flattened. Any excess carpet that remains on the ends is properly removed, and then the ends of the carpet are reattached to the subfloor. Once the carpet is reattached, the ripples will be gone and the surface will once again be flat.
Although carpet stretching seems straightforward, we definitely recommend relying on professionals to handle the job. Special tools (including a power stretcher) and processes are needed for a successful carpet stretch.
Fortunately, El Paso Carpet One's carpet experts know how to stretch carpet, and they have years and years of experience helping homeowners in the El Paso, TX region. Be sure to visit our store to learn more about our carpet stretching services. We offer free estimates!