Style and Versatility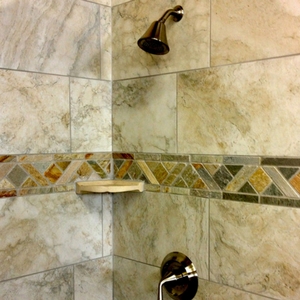 Tile is without a doubt one of the most popular options in bathrooms. Why? Here are some important reasons:
Versatility: Tile is an extremely versatile product, as it can be installed on floors, walls, backsplashes, countertops, and even in showers. Plus, tile is available in so many different shapes, sizes, colors, and patterns, so no design is considered off limits.
Water Resistance: Tile, including ceramic tile and porcelain tile, is totally water resistant, so it can handle the moisture you typically see in bathroom settings. At the same time, tiles can withstand heat as well.
Maintenance: For the most part, tiles are extremely easy to clean and maintain. The surface can be sealed to protect against spills and stains, so only routine wiping is necessary to keep tiles looking as good as new. Also, if any tile does chip or break, it can usually be easily replaced.
To learn more about bathroom tile, be sure to work with the experts at El Paso Carpet One Floor & Home.
Shower Tile
We love helping homeowners choose and add shower tile to their custom showers. In fact, we love it so much that we think shower tile deserves its own section! Shower tile options tend to be smaller than floor tiles, but they are more design-focused. There are, for example, a variety of stone looks from which you can choose, as well as wood looks. Learn more about wood tile by clicking here.
Most importantly, shower tiles often a highly-resistant porcelain construction, so they can withstand extreme moisture and heat. To truly create a custom shower that will look good and last long, tile is the perfect option!