LVT from Armstrong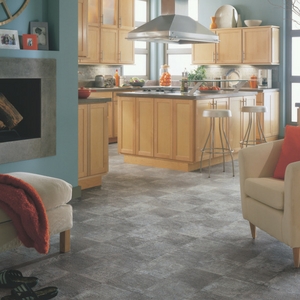 Armstrong offers a great selection of resilient flooring options such as luxury vinyl tile (LVT). Armstrong vinyl tile offers natural stone and ceramic looks, but it is extra soft and durable. At the same time, Armstrong LVT is more affordable than its natural counterparts, so it truly is one of the best values in flooring.
How does Armstrong LVT combine style and durability? It is made from four primary layers, including the wear layer, protective layer, printed layer, and vinyl backing layer. The wear layer, which is made of urethane, keeps the floor's surface free from scratches and scuffs. It also acts as a barrier against most spills and stains. The protective layer is next, and it consists of a clear film that prevents the vinyl tiles from ripping and tearing. The third layer is the printed layer, and it provides the floor with realistic colors and patterns. This printed layer is what gives Armstrong LVT its natural stone or ceramic appearance. The vinyl backing layer is last, and it adds extra strength and support.
Given this special layered structure, Armstrong LVT is certainly more durable and comfortable than regular stone and ceramic. It is waterproof and stain resistant, yet it remains flexible enough to withstand heavy foot traffic. As a result, maintaining Armstrong LVT is relatively stress-free. Only routine sweeping and occasional mopping is necessary! Plus, Armstrong LVT, since it's flexible, is warm and soft underfoot.
To learn more about Armstrong LVT or to check out other Armstrong flooring options, be sure to visit El Paso Carpet One Floor & Home. We proudly service El Paso, TX and neighboring regions!